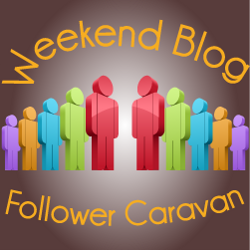 Today, while doing what blogger's should be doing, i.e. blog hopping I happened to land at
Pinay Mommies Community
, home of Weekend Blog Follower Caravan. Since I am already a mom, I think this is the best community that I should be in and get a chance to know the rest of the Pinay Mommies out there.
Weekend Blog Follower Caravan # 9 was posted last Saturday March 12, 2011, I'm a little bit late but I still hope na "makakahabol". WBFC # 9 rule state the a blogger should introduce themselves and visit the rest of the pinay moms listed.
This is the best I can describe about me..
My mother named me January probably because I was born in the first month of the year. I am a Chavacana mestiza Ilongga and Bisaya, in short 100% Pinay. Born and raised in Zamboanga City then went to Northern Mindanao after college to search for a job. Presently, I'm living with Jessie my ex-boyfriend for 8 years turned husband 2 years ago and our cute little angel Javen Xyrus in Iligan City, Philippines.
I am a regular employee in one the largest corporation in the Philippines, a Trying Hard part-time blogger wannabe, a photography hobbyist, a jewelry artisan in the making, layout artist hopeful, etc. etc. etc. the list just goes on and on and on.
I own three blogs. A photoblog "
Hugna
" that showcase my photography skills (
naks! trying hard talaga hehehe)
, a craft blog "J
anz Crystalz
" for my handmade fashion jewelry creations (ooopppsss, no updates for many many months now need to work it out soon) and this anything under the sun blog "
Deliciously Spicy Moments
".
Though I have less time online, and doing my thing as a blogger, I will really try my best to visit and get to know all of you as soon as I can. I hope you won't be discouraged and will still leave comments and follow my blogs.
See you soon Mommies!