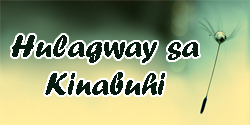 Unsa kaha ang ako nahuna-huna para sa letrang E? Hmmmm.. Walay lain kungdi ang Bisaya bersyon sa ako pangalan. hehe, karun nakabalo na mu?
What do you think have I thought to be my entry for today's Hulagway sa Kinabuhi or Pictures of Life?
Well, none other than my name in Visayan version.
January aka Enero
Have a Nice Day!