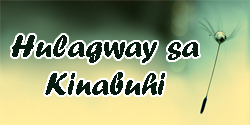 Akong sud-an kagabii k mongos nga naa kamungay mao na nahimong kamungay usab ako Hulagway sa Kinabuhi karun adlawa.
Ang kamungay ay usa kuno pagkaon sa pobre, ug matud pa nila ang balay nga naay puno sa kamungay sigurado daw nga "bisaya" ang nag puyo. Murag tinuod pud baya hehehe. Pero wala ra sila kabalo kung unsay sustansya ang naa sa kamungay.
Daghan kaau kaayuhan ang mahatag sa kamungay sa ato kalawasan sama sa:
- makapalig-on sa immune system
- makapanindot sa panit, mu-mando sa blood pressure, makapaayo sa sakit sa ulo,
- makatabang sa pag-paubos sa asukal sa dugo (hehehe, sakto ba ni?), pasabot makapalayo sa sakit nga diabetes.
Ug daghan-daghan pa kaau lisod ra ma-translate sa bisaya. Salamat sa akong
amigo
nga bisaya mao nagatranslate para sa ako.. hehehe
- 0 -
My share for Pictures of Life is Malungay or Moringana in English. Some says that moringana is a poor man's vegetable. They just do not know the health benefits this leafy vegetable can offer.
Moringana is rich in nutritional benefits, such as:
- strengthens the immune system
- repair and restore skin condition, control blood pressure and relieves headaches
- helps normalize blood sugar, thus prevents diabetes, etc. etc.
Moringana offers much much more, just hit google search to find it. lol..