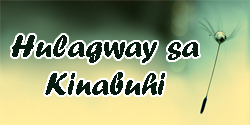 Warning! This post is written in Visayan Dialect, and for you to understand the content I have posted the translation below.
Maayong buntag mga higala, ulahi na sab ko sa Hulagway sa Kinabuhi, pero okay ra gihapon kay naka-apas pa man jud.
Ang akong ma-share karun kay ang akong Lugar Natawhan ang Lungsod sa Zamboanga.

Nigikan ko sa akong lugar natawhan paghuman nako ug college, ni-langyaw ko sa Lungsod sa Iligan para mangita ug trabaho. Ug mao na karun naa na ko nagpuyo diri sa Iligan. hehehe..Ug basin sunog tuig mubalhin na sab mi padulong Cagayan de Oro.

Mao na ni karun ang itsura sa among syudad karon, layo ra kaau sa unang panahon.

Good Morning another day for Pictures of Life, my share this week is my place of birth Zamboanga City.
I left Zamboanga City after college and went on job hunt at Iligan City. Today, I'm currently residing in Iligan City and soon to be relocated in Cagayan de Oro City maybe early next year.
The pictures above are recent takes from the Zamboanga City, it's far different from the city I've known before.